Description
"A stunning fair-isle hat inspired by vintage filigree, The Dewdrop Beanie features a cozy fold-over brim followed by a dazzling dance of color work that displays enchanting architectonic features. The mesmerizing diamonds design harmoniously flows throughout the body of the beanie, and the top of the beanie is decreased with neat, symmetrical spiral decreases, creating an exquisite and classic knit accessory. This knitting pattern equips you with highly-detailed written instructions, a color-coded stitch chart, a schematic with measurements, a stitch glossary, links to numerous video and photo support, some photo tutorials, and more. If you're looking for a delightfully captivating fair-isle knitting pattern, then look no further than The Dewdrop Beanie!"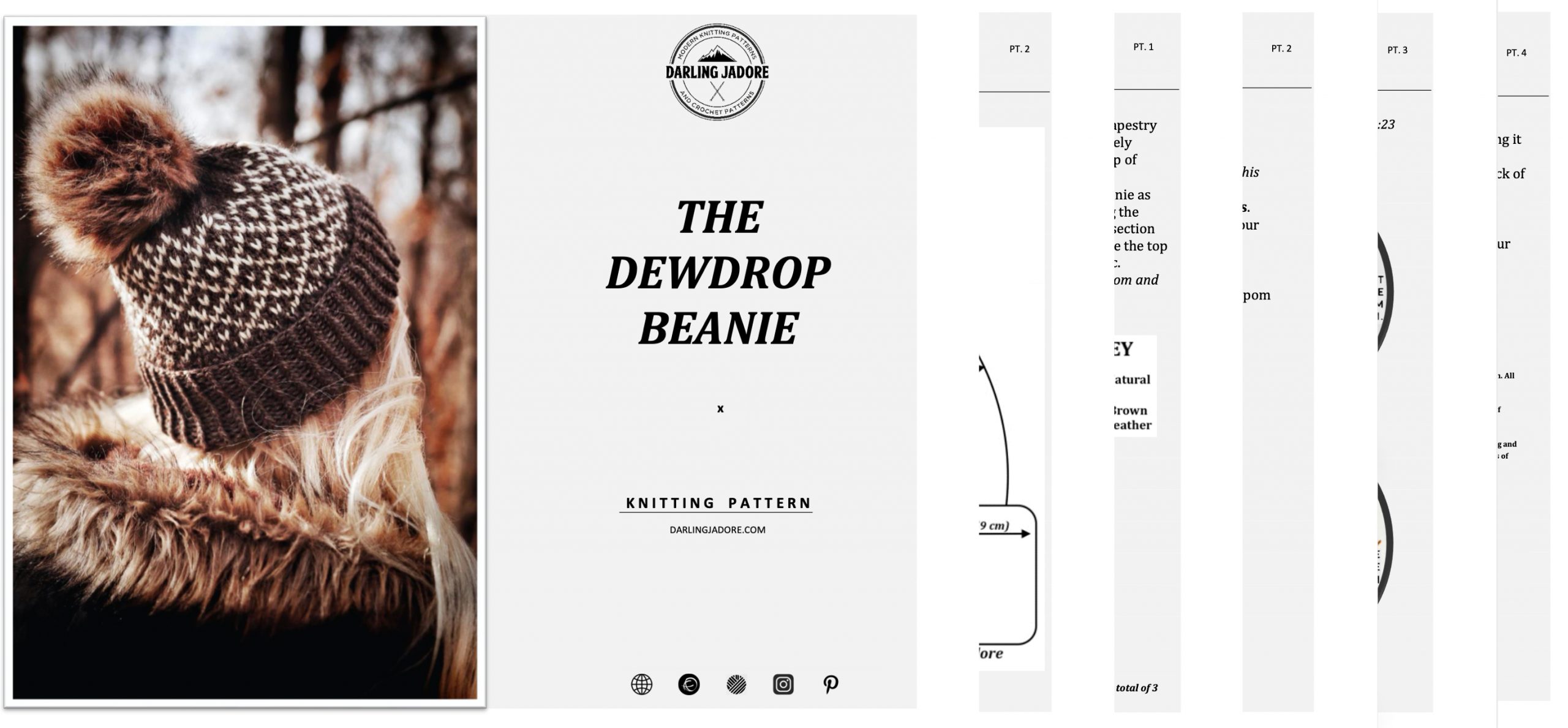 • A DarlingJadore™ Original knit beanie design of "The Dewdrop Beanie"
• Info: The Dewdrop Beanie knitting pattern is a highly-detailed digital knitting pattern file containing detailed written instructions, a stitch glossary, a color-coded stitch chart, a schematic with precise measurements, links to numerous video and photos tutorials, + more
• Language of The Dewdrop Beanie knitting pattern: English; The Dewdrop Beanie knitting pattern is written in standard American terms
• Skill level of The Dewdrop Beanie knitting pattern: Intermediate knitters (knitting in the round and fair-isle/stranded knitting techniques involved)
• Method of Construction: The Dewdrop Beanie is seamlessly knitted in the round on circular knitting needles, bottom-up, first starting with the brim, and ending at the top with symmetrical spiral decreases
• Features: The Dewdrop Beanie is a seamless beanie design that features a cozy fold-over ribbed brim and a classic beanie structure. The beanie is covered in a gorgeous, classic fair-isle design and then is decreased at the top with a symmetrical, spiral design. The beanie is topped off with a faux fur pom pom, but there is also instructions and a photo tutorial within the knitting pattern to make and attach a pom pom made of yarn instead, if preferred.
• Size of the Dewdrop Beanie: This knitting pattern was written and designed to fit average adult women head sizes at approximate 23-26″ (58.42 cm – 66.04 cm) circumference; the pattern is easily adaptable to make the beanie larger or smaller. There are instructions within the pattern to make the beanie longer or shorter.
• Other places: You can also grab The Dewdrop Beanie knitting pattern on Ravelry, Etsy, and LoveKnitting
• Subscribe: Subscribe to the Darling Jadore newsletter to keep up-to-date on all our latest designs, free patterns, coupons, + more!
• Blog post: Read all about the design concept + other details of The Dewdrop Beanie knitting pattern on the blog here
• Instant Download: The Dewdrop Beanie knitting pattern is available for download immediately after purchasing and is immediately sent electronically to the email address provided at checkout and/or the email address linked to your PayPal account (if you purchased the pattern via PayPal). Contact The Darling Jadore Technical Support Team via email at any time if you have any difficulty downloading your knitting pattern or crochet at tech@darlingjadore.com
• Live pattern + no expiration: As with all Darling Jadore knit and crochet patterns, the download link never expires, and all knit and crochet patterns are "live", meaning they are regularly updated (with notice to customers). We at Darling Jadore are passionate about providing the highest quality knitting patterns and crochet patterns and videos to our customers, and to us, that means always updating versions of our knit and crochet patterns to make them the highest possible quality when possible. You can read more of our FAQs here.
Required Materials For The Dewdrop Beanie Knitting Pattern:
•U.S. Size 8 (5.0 mm) 16″ (40.64 cm) circular knitting needles
•Psst…The interchangeable knitting needle sets we like most is this one
•Approximately 120 yards (109.728 meters) of medium/worsted-weight (category 4) yarn; approx. 95 yards (86.868 meters) of the "base" color and approx. 25 yards (22.86 meters) of alternate color; Wraps Per Inch (WPI) by weight: Approx. 9-12 (similar here, here, and here)
•Scissors
•Tapestry needle
•Check out our Amazon shop
•Note: As with all Darling Jadore knitting patterns and crochet patterns, the specific yarn & materials used in the photographed sample knitted beanie is listed within the knitting pattern for convenience.
Other notions recommended, but not required for The Dewdrop Beanie knitting pattern:
•Stitch markers
•Tapestry needle
•Row counter
•Project storage bag
•Stitch markers
•Yarn Guide Finger Holder
•Yarn bowl
All knitting patterns and crochet patterns and photographs are the property of Darling Jadore and are purchased under the agreement that the knit and crochet patterns and photographs cannot be distributed, copied in part or in whole, re-written, or re-sold without permission. All knitting pattern and crochet pattern files, photos, and videos are protected by U.S. copyright and are the property of DarlingJadore. It is illegal to redistribute, sell or share these knit or crochet patterns in part or in whole, electronically or physically.
© 2020 DarlingJadore; All rights reserved.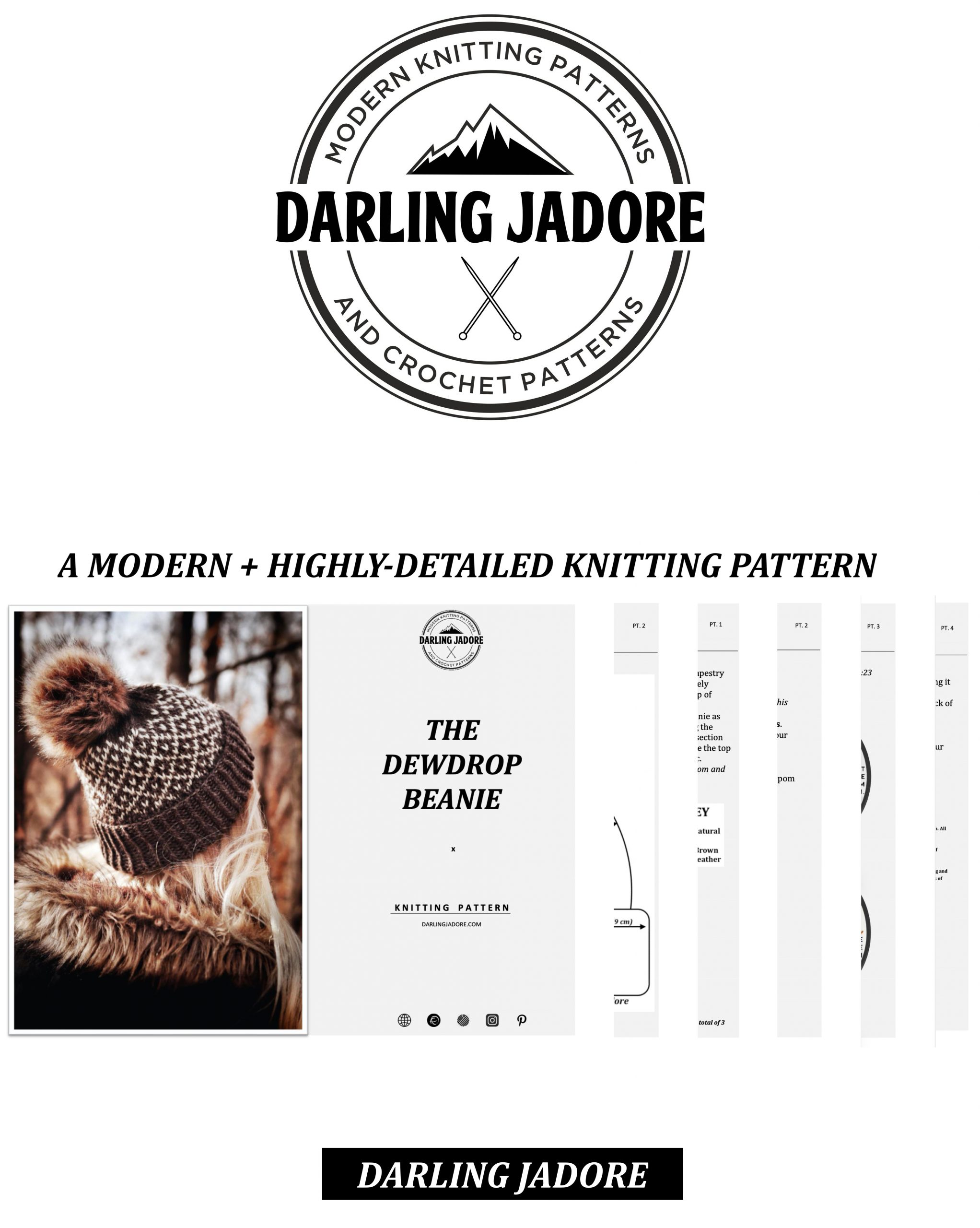 • Etsy: DarlingJadore
• Loveknitting: DarlingJadore
• Pinterest: DarlingJadore
• Instagram: @DarlingJadore
• Ravelry: DarlingJadore
Something is wrong.

Instagram token error.