Description
Delicate eyelet lace cascades amidst a sea of classic knit stitches that all flows in harmony with a lace wave border, making The Ruska Shawl a major stunner! Inspired by the Quaking Aspen trees during Colorado's autumn season, the knitting pattern allows you to create a dazzling half-circle shawl that can be worn a variety of ways, and is actually really easy to knit. Suitable for advanced-beginner knitters, The Ruska Shawl is knit top down with only simple stitches and lace techniques — no complicated stitches or cabling required. The PDF equips you with detailed instructions, a stitch glossary, a schematic with precise measurements, links to helpful video tutorials, and more. If you're looking to knit a gorgeous, lightweight shawl that's a statement piece, then The Ruska Shawl knitting pattern is definitely for you!
• A DarlingJadore™ original knit design of "The Ruska Shawl"
• Knitting pattern is a highly-detailed digital file containing written instructions, a stitch glossary, schematic, + more
• Catch a glimpse of this design in our commercial
• Skill level: Advanced beginner/Intermediate knitters
• Process: Seamlessly knitted flat top-down
• Features : A classic half-circle knitted shawl that's filled with lovely, easy-to-knit stitches with eyelet lace for the body, and then gradually grows to a lacework edge
• Language: English. This pattern is written in standard American terms
• Size: There is a detailed schematic within the knitting pattern file with specific measurements for The Ruska Shawl, along with sizing and dimension information. For convenience, the shawl is approximately 22.5″ (57.15 cm) (width/depth) x approximately 63″ (160.02 cm) (length/wingspan)
• Blog Post: You can read about the knit design concept behind The Ruska Shawl here
• Other Locations: You can also find this knitting pattern on Etsy, Ravelry, or LoveKnitting
• Knitting pattern is available for download immediately after purchasing and e-mailed to the e-mail address you provide at checkout. Contact The Darling Jadore Technical Support Team via e-mail at any time if you have any difficulty downloading your knitting pattern: tech@darlingjadore.com
• As with all Darling Jadore knitting patterns and crochet patterns, the download link never expires, and all knit and crochet patterns are "live", meaning they are regularly updated (with notice to customers). We at Darling Jadore are passionate about providing the highest quality knitting patterns and crochet patterns and videos to our customers, and to us, that means always updating versions of our knit and crochet patterns to make them the highest possible quality when possible. You can read more of our FAQs here.
Required Materials For The Ruska Shawl Knitting Pattern:
• U.S. Size 8 (5.0mm) knitting needles (here, here, and here)
• Psst…The interchangeable knitting needle set we like most is this one
• Approx. 717 yards (655.625 meters) of DK/light-weight (category 3) yarn; Wraps Per Inch (WPI) by weight: Approx. 11-15 (similar here)
• Scissors
• Stitch markers
• Check out our Amazon shop
• Note: As with all Darling Jadore knitting patterns and crochet patterns, the specific yarn & materials used in the photographed sample shawl is listed within the knitting pattern for convenience.
Other notions recommended, but not required for The Ruska Shawl knitting pattern:
• Tapestry needle (for weaving in ends)
• Row counter
• Project storage bag
• Stitch markers
• Yarn Guide Finger Holder
• Yarn bowl
All knitting patterns and crochet patterns and photographs are the property of Darling Jadore and are purchased under the agreement that the knit and crochet patterns and photographs cannot be distributed, copied in part or in whole, re-written, or re-sold without permission. All knitting pattern and crochet pattern files, photos, and videos are protected by U.S. copyright and are the property of DarlingJadore. It is illegal to redistribute, sell or share these knit or crochet patterns in part or in whole, electronically or physically.
© 2020 DarlingJadore; All rights reserved.
• Etsy: DarlingJadore
• Instagram: @DarlingJadore
• Ravelry: DarlingJadore
• Youtube: DarlingJadore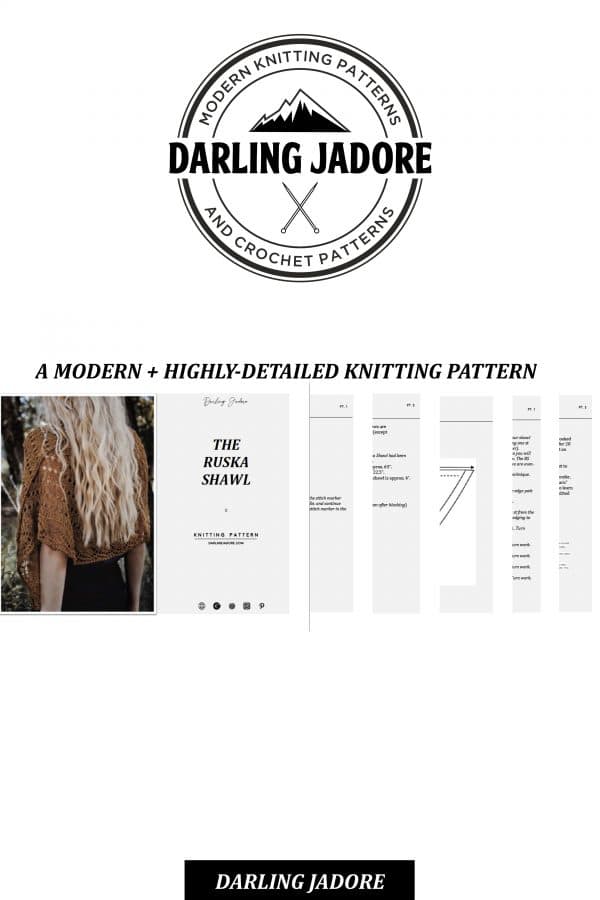 Something is wrong.

Instagram token error.