Description
Textured and beautiful, The Coquelicot Scarf is a luxuriously cozy infinity scarf that you'll definitely want in your fall/winter wardrobe! This easy knitting pattern includes a knitting chart, links to helpful tutorials, and more, making it suitable for beginner knitters looking to create a great fashion accessory that's timeless and beautiful.
• A DarlingJadore™ original knit design of "The Coquelicot Scarf"
• Knitting pattern is a highly-detailed digital file containing written instructions, a stitch chart, links to helpful tutorials, + more
• Skill level: Beginner knitters
• Process: Seamlessly knitted flat
• Features : A classic rectangular knitted infinity scarf design, filled with simple yet textured easy knit stitches
• Language: English. This knitting pattern is written in standard American terms
• Size: Knitting pattern was designed and written for the scarf to wrap twice around the neck; specific size/dimensions are located within the knitting pattern.
• Fun Fact: This knitted scarf design was featured in Koigu's pattern collection book (it was originally named "The Lakewood Scarf" and then renamed to The Coquelicot).
• You can also find this knitting pattern on Etsy, Ravelry, and LoveKnitting
• The Coquelicot Scarf knitting pattern is available for download immediately after purchasing and e-mailed to the e-mail address you provide at checkout. Contact The Darling Jadore Technical Support Team via e-mail at any time if you have any difficulty downloading your knitting pattern: tech@darlingjadore.com
• As with all Darling Jadore knitting patterns and crochet patterns, the download link never expires, and all knit and crochet patterns are "live", meaning they are regularly updated (with notice to customers). We at Darling Jadore are passionate about providing the highest quality knitting patterns and crochet patterns and videos to our customers, and to us, that means always updating versions of our knit and crochet patterns to make them the highest possible quality when possible. You can read more of our FAQs here.
Required Materials For The Coquelicot Knitting Pattern:
• U.S. Size 8 (5.0mm) knitting needles (here, here, and here)
• Approx. 700 yards (640.08 meters) of medium/worsted-weight (category 4) yarn; Wraps Per Inch (WPI) by weight: Approx. 9-12 (similar here, here and here)
• Scissors
• Tapestry needle
• Check out our Amazon shop
• Note: As with all Darling Jadore knitting patterns and crochet patterns, the specific yarn & materials used in the photographed sample scarf is listed within the knitting pattern for convenience.
Other notions recommended, but not required for The Coquelicot Scarf knitting pattern:
• Row counter
• Project storage bag
• Stitch markers
• Yarn Guide Finger Holder
• Yarn bowl
All knitting patterns and crochet patterns and photographs are the property of Darling Jadore and are purchased under the agreement that the knit and crochet patterns and photographs cannot be distributed, copied in part or in whole, re-written, or re-sold without permission. All knitting pattern and crochet pattern files, photos, and videos are protected by U.S. copyright and are the property of DarlingJadore. It is illegal to redistribute, sell or share these knit or crochet patterns in part or in whole, electronically or physically.
© 2020 DarlingJadore; All rights reserved.
> Etsy: DarlingJadore
> Instagram: @DarlingJadore
> Ravelry: DarlingJadore
> Youtube: DarlingJadore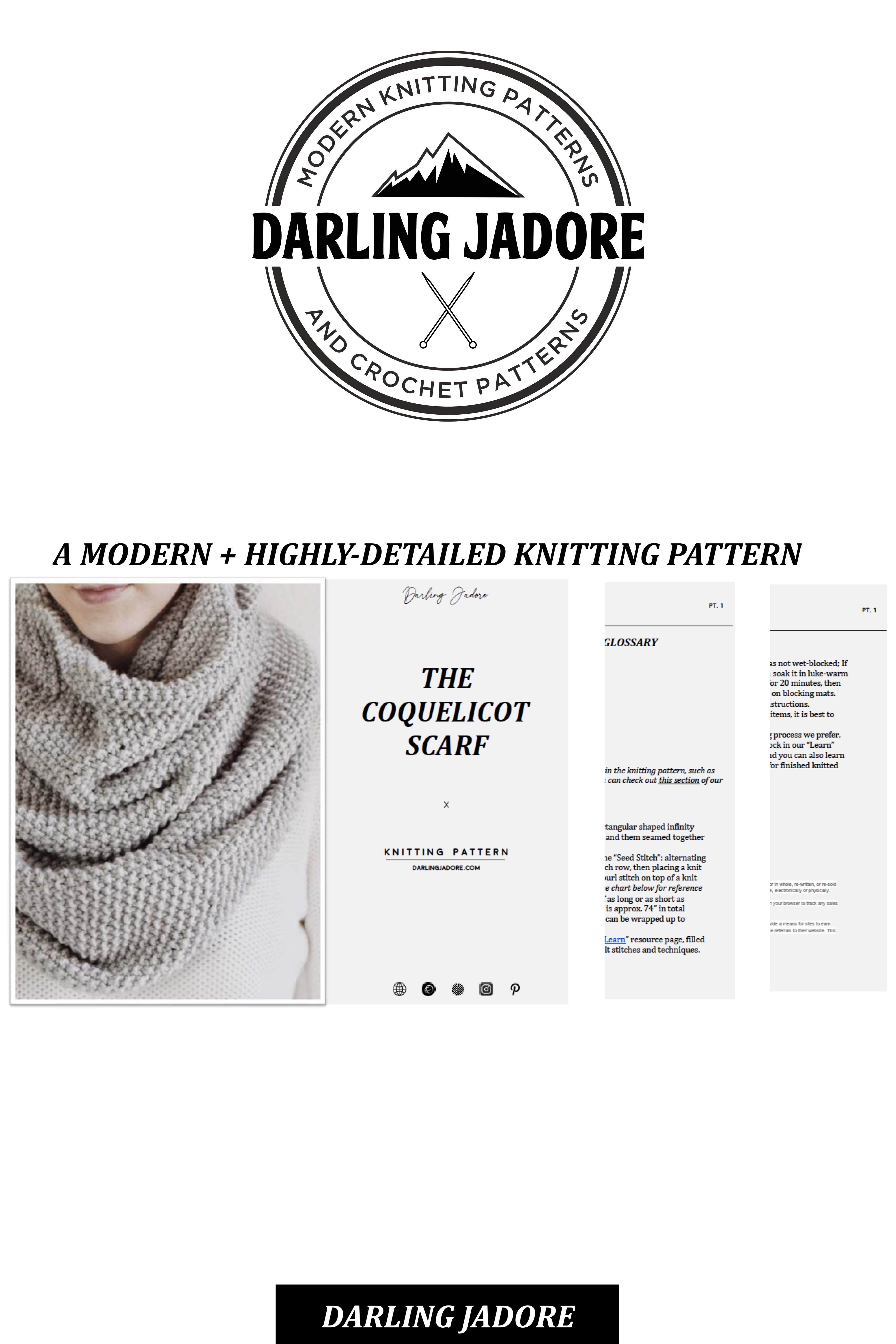 Something is wrong.

Instagram token error.